TradingView Stock Screener | Save Time Finding Massive Opportunities
Have you ever wanted to find the best stocks that are currently undervalued? What about stocks that have the picture-perfect set up before the big move? Traders tend to spend hundreds of hours scrolling through thousands of stocks that match these criteria. These hundreds of hours can be easily cut down to just minutes using the right stock screener or stock scanner.
TradingView Stock Screener
Stock screeners are the most helpful tool among many traders, investors, and people who like to monitor and find stocks. TradingView is a trading platform that stacks up well with any other stock screener. A stock screener allows traders to filter through the thousands of stocks to a narrowed-down list that is manageable to take action on right away. Inside this article, we will give you a full breakdown of how to use this stock screener like an expert trader.
What is a TradingView screener?
As the name reflects, a screener is a tool designed to scan an extensive list of instruments, including stocks and currencies. Moreover, TradingView offers hundreds of predefined filters based on fundamentals, technicals, and more the trader can come up with a complete list of stocks matching. If all these filters confuse you as a trader you need not worry as TradingView offers some preset scans that are most helpful, including top gainers, an all-time high, new monthly high, new monthly low, most volatile, volume gainers, and top losers. If you are a trader that knows exactly what stocks you are looking for some filters available include PE, EPS, Moving Averages, Dividends, RSI, and much more.
Where to find the TradingView stock screener?
On the bottom left of any opened charts, locate the screener tab. The drop-down menu will pop up, permitting you to scan and choose the screener of your choice, for example, the stock screener.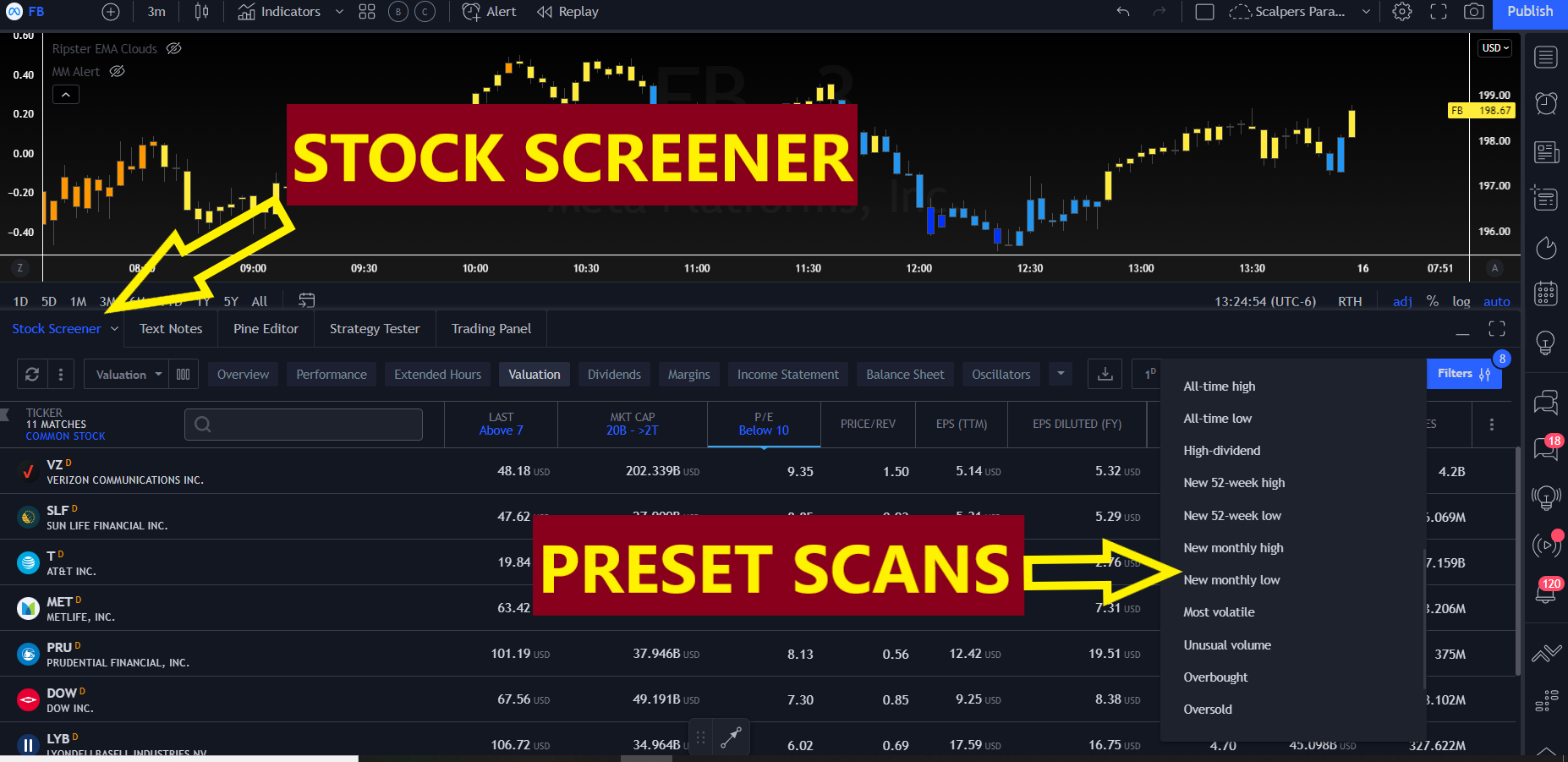 Overview of TradingView screener interface
The toolbar appearing at the top of the interface is the primary controller. It includes different valuable features and support that will be explained in this section. Throughout this section, we will review the stock screener from left to right.

Refresh (furthest left): At the start of the toolbar, two arrows form a circle almost similar to the recycle logo. It is the refresh button. Click this button to manually refresh the screens to show the latest changes and fluctuations in the stock list.
Refresh rate: Besides the refresh sign, three dots are available. Clicking these dots will reveal other refresh options, including manual refresh, refresh 10 seconds or refresh every minute. You can select any option of your choice. Choosing the automatic refresh options will show the countdown of the refresh interval.
Column sets: The button is always labeled as the active column set. Clicking the button will lead you to all the column sets customized but the user and default ones provided by TradingView. The sets awarded with yellow stars are default, and the favorite ones appear at the top of the list.
Column setup: Column setup is reflected by the three columns beside the column set bar icon. Clicking the three columns bar icon will allow you to remove and add the columns. This can visually be seen in the picture below.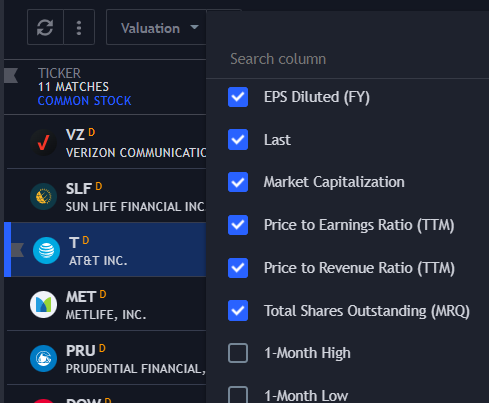 Preset Column Sets: TradingView gives traders the option to use their preset columns when reviewing the stocks inside the screener. These columns allow traders to quickly change to the most common options and most useful filter criteria including the column sets like Overview, Performance, Extended Hours, Valuation, and more. So if trader likes to trade stock after hours they might be inclined to hit the extended hours button to receive columns related to their goals.
Export screener: Click the download button present on the right side of the shortcut bar. TradingView allows users to download the real-time data as an Excel workbook through this button. However, this support is only available with an upgraded account.
Time interval: This column reflects stock data according to a predetermined time frame.
Market: This feature permits the user to change the country pre-market actively displayed on the screen. The market icon varies according to the selected country. The ability to follow this variety of foreign markets is what makes Tradingview so special and useful to traders all around the world.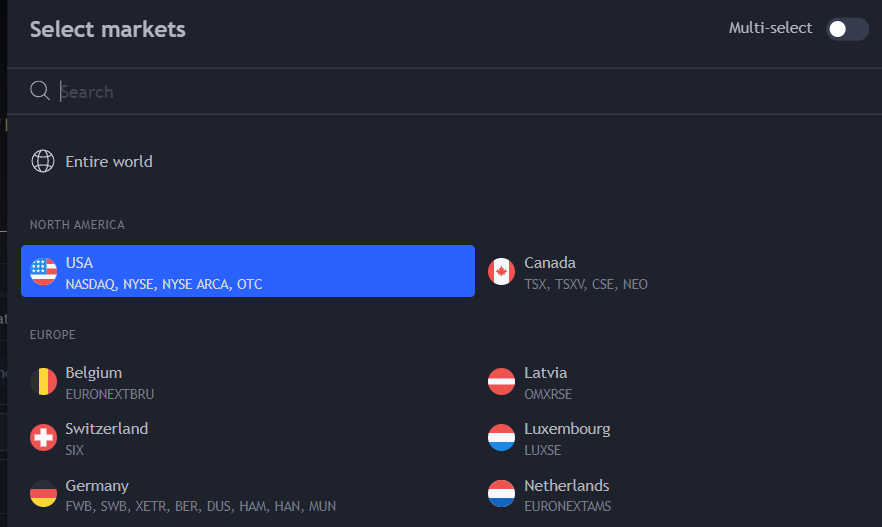 Alerts: The alarm icon represents this button. Enabling this button will apply an alert to the active filter automatically. This feature can be extremely useful to traders who cannot stare at their computer multiple hours a day. With instant alerts, traders can find the best opportunities right when they happen through email, SMS, and app alerts. Every second counts when it comes to trading and that is why this feature is so popular for traders everywhere.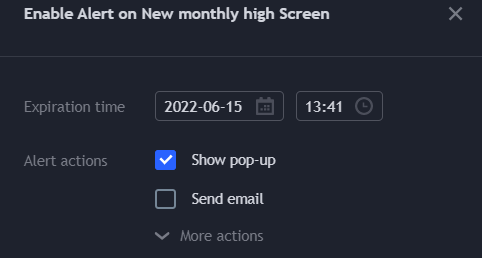 Saved and Preset Screens: It is also labeled as the name of the active screener currently being used. Clicking this button will open the drop-down list of all screeners, including TradingView default templates and custom-made ones.
Filters: The last feature on the toolbar allows you to customize parameters.
Features of Premium TradingView screener
This screener offers multiple features that you can use for free. However, the paid version is more beneficial in terms of money as it provides more liberty. The free version of TradingView will lack time frame options, auto-refresh, data exportability, and more importantly alerts. Upgrading to one of the paid versions of TradingView can unlock all these without limitations.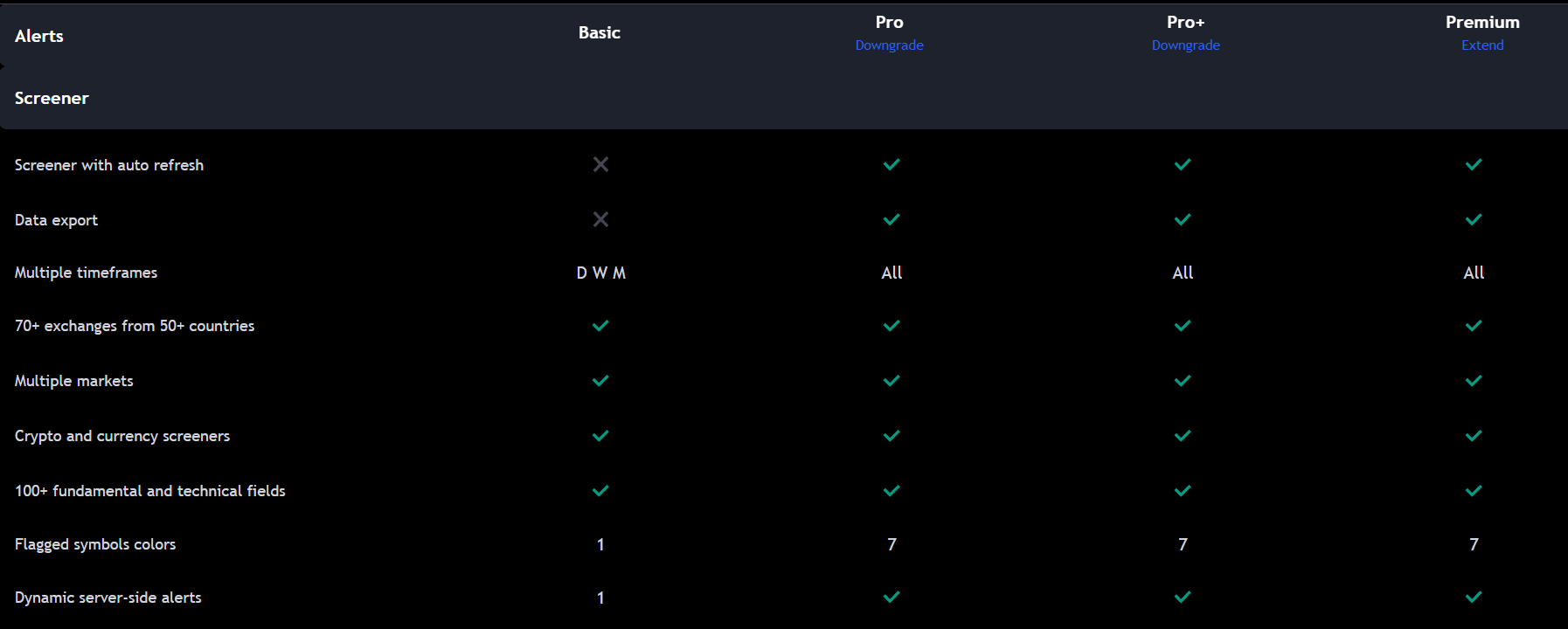 How to use the TradingView screener?
Now we will overview how to actually set the filters needed to find the right stocks a trader wants. This is mainly done by adjusting the fundamental, technical, or descriptive parameters as seen in the picture below. Create a custom screener
TradingView facilitates the users to modify and adjust screening tips and parameters to make the most out of the screener instrument for pre-market analysis. You can do this by following these simple steps.
Step 1: open the screener
A TradingView is a brilliant instrument for scanning and tracking the stock market. For this purpose, it would be best. Open it.
Step 2: begin customizing.
Click the "filter" blue button on the screen. This will lead you to the customization menu, where you can see an extensive collection of filters. You can adjust the filters through sliders used to determine the range of criteria. A drop-down menu and manual input are also available for editing. You can select from default options or by setting the value requirement.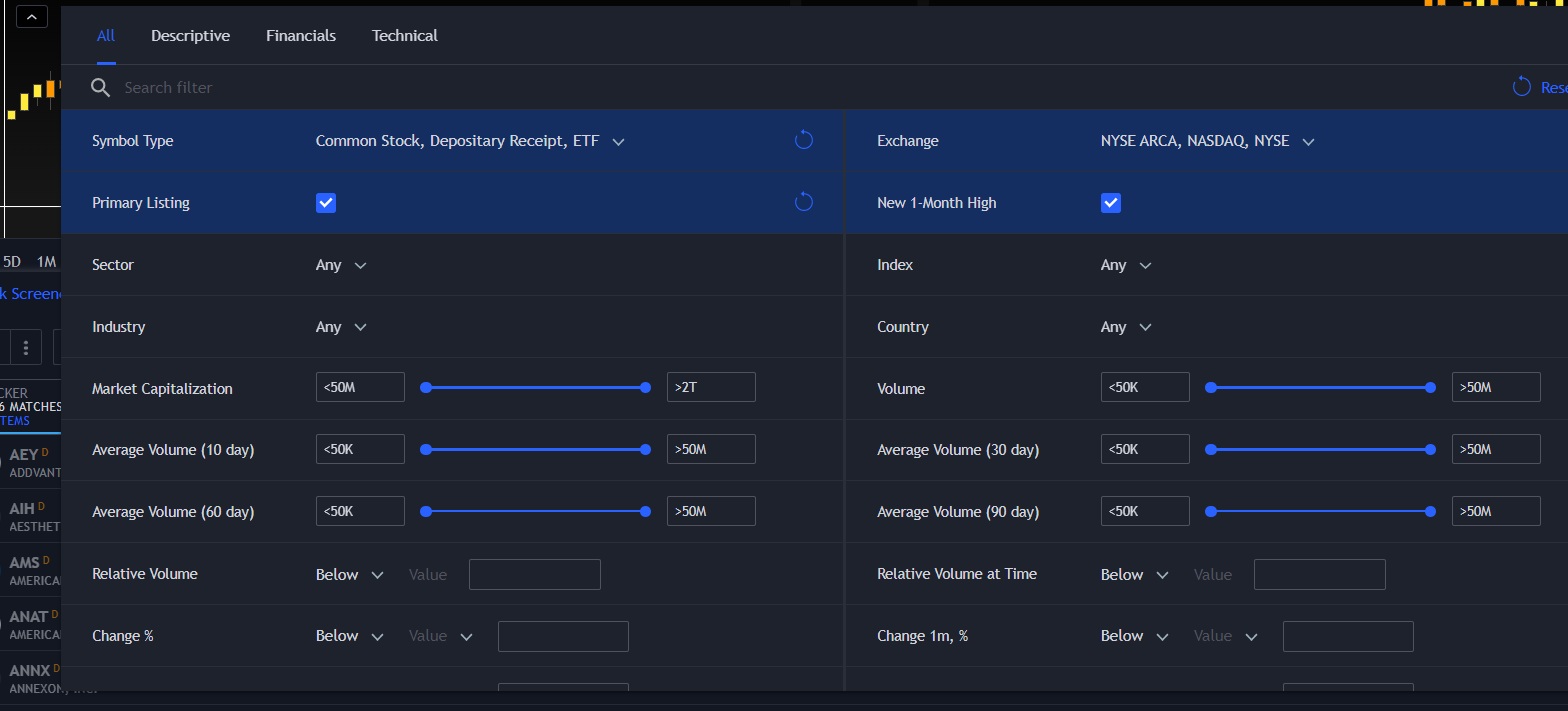 Comprehend the parameter
You need to scan and consider specific parameters to minimize the parameters. In this screener, parameters are divided into three primary filters. It includes
Descriptive
This category is related to general parameters. Many parameters are available in this option, including open, high, low, post-market, and pre-market close. However, the standard descriptive parameters essential to scan and consider are a symbol, exchange, last, market capitalization, volume, country, and money sector.
Fundamental
These filters are related to fundamental aspects of a stock class. There are a handful of metrics present in TradingView to adjust. These parameters include the name of employees, net income, EPS forecast, Gross profit or money, and many more. However, the most crucial fundamental parameter are basic EPS, dividends, ratio, shares float, etc.
Technical
These filters are related to price performance and a few indicators. These parameters can be set with a particular value, or they can be ticked. The most common technical parameters are change and change%, new highs and lows, moving average, etc.
First, analyze the trading and stock market through a well-known screener. For instance, the TradingView takes experts' tips, then jumps to being an investor or trader.
Save customer stock screener
Once you have completed customization, the TradingView custom screener will automatically show the results that compliment or stand out to your specified criteria of stock and money.
Indicator and stock charts
In the free version, you can open one chart at a time per tab. Paid users can use up to eight TradingView charts per tab. The saved chart layout can be opened with just a few clicks. In addition, the subscribers can export the chart data, customize intervals with background colors and build spread-based custom intraday charts.
How to create a custom column layout
If you like to put your sparkle in everything, you can. You can modify the interface by changing and modifying columns for further customization. For example, you can eliminate resistance and irrelevant filters and add more useful ones. There are two simple methods to do this. Let's explore!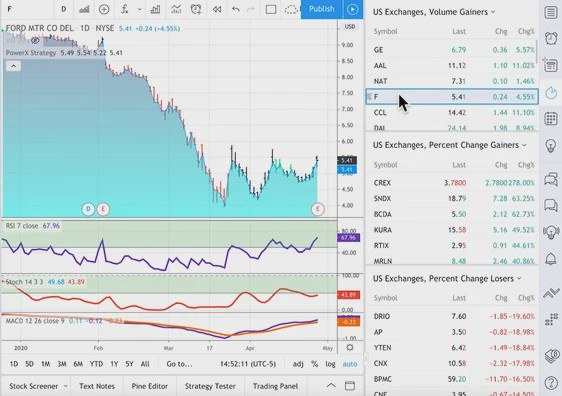 Addition and elimination of columns
To remove a column:
Open the screener
Hover and right-click on the column you find irrelevant.
Click the remove column option to remove it
For adding column
Find the three vertical dots with the column header on the toolbar.
Tick the column to remove or add it. The ticked boxes will automatically add the column to the screen.
Column rearrangement
You can also rearrange the column position by simply dragging and dropping.
Select the column you want to move

Click and hold on to the column

Move to the desired place

Drop it by releasing the left mouse

Save the customized interface settings
After customization, you can save this layout to use on other link and screeners. To save the new layout, go to the name column, give it a name, and save it.
Pros
A massive number of chart capabilities
The expansive selection of global stock
Perfect selection of screening parameter
Interactive trading room settings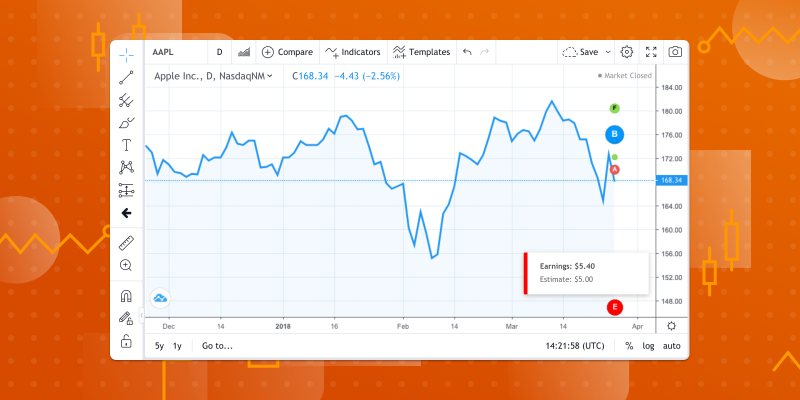 Conclusion
A stock screener plays a significant role in determining profit and loss. It leads you to valuable and volatile stocks that are likely to give instant profit in the form of money. For this purpose, the TradingView has all features that you may need. In addition, it features a solid offering of fundamental and charting functionalities built on advanced coding technology.
It can cover the stock pre-market from all around the world up to 130+ global exchanges. Therefore, it is considered one of the best stock screeners for global investment.
Trade with us!
Looking for a more sophisticated and educational options trading experience, look no further than "Market Moves Premium Options Trading Group." Our exclusive 7-day membership offers swing trading set-ups, fast text signals, and +100 hours of educational content. Plus, you'll have access to live trading sessions twice per day. So if you're ready to take your options trading to the next level, join us today!
Financial Disclaimer: Market Moves LLC is a company that provides education in financial and stock market literacy. WE ARE NOT FINANCIAL ADVISORS. In fact, it is illegal for us to provide any financial advice to you. Under U.S. law, the only persons who can give you financial advice are those who are licensed financial advisors through the SEC. Results shown from Market Moves LLC or customers who use our product and/or service are individual experiences, reflecting real-life experiences. These are individual results, and results do vary. Market Moves LLC does not claim that they are typical results that consumers will generally achieve. Past performance does not guarantee future results. You should not rely on any past performance as a guarantee of future investment performance.