7 Best Trading Journals for 2022
Success and loss are part of life. Trading lines also follow the same principle. It is a harsh truth, but many professional or beginner traders are aware of it. They know that no matter how much time they spend researching the stock, forming trading strategies, and even back-testing, the possibility of loss never fades.
trading journal, best trading journal for 2022
Instead of leaving uncertain blind shots and letting the bad trade define you, you can utilize them to polish your trading strategies. For this purpose, the practice of keeping a stock exchange journal to assist investors turns their losses into lessons. A trading journal can help strengthen the trading strategies and ensure high performance.
This article aims to analyze the best trading journal app and software to make your investment and trade profitable.
What is a trading journal?
A trading journal is a way to monitor your trading performance from the beginning till the present by making a record. The act of consistently reviewing trades helps traders improve skills and avoid these mistakes in the future. Tracking the progress or trade history is one of the best ways to allow you to study the mistakes that you made while opening or closing a position. Moreover, a trading journal helps traders stick to a plan and not go off track. It helps enhance the ability to make better execution in the future. A journal can be more than just a record of the trades you have made so far.
It can perform the task as you make it. A good trader can write down their trade experience, emotions, thoughts, and observations during and after the trade. It is beneficial to make notes of important observations right after the trade, so you do not miss any point.
7 best trading journal
Keeping a trading journal is a simple task that can offer significant and beneficial results if kept up to date consistently. Choosing the journal can also change the game. Therefore, we have mentioned the best trading journals available for all traders at an affordable price. Let's explore:
TraderSync
Key features
Mobile application for android and iOS

Artificial intelligence insight

Trade management

Performance report

Multiple portfolios

Simulator

Pre and post-chart trade data

Trade data through manual entry and import
TraderSync is traditional but one of the best trading journal with multiple valuable analytical features to assist you in enhancing trading performance. The helpful trading journal is up to serve every willing person available on every device as an application.
This is a flexible as well as feature powerhouse journal. It was created in 2014 by a group of programmers who were facing similar problems like us or any trade. They have equipped it with sophisticated features to aid in monitoring your trading activities and performance. It includes charts, trade stimulants, analysis reports, and many more.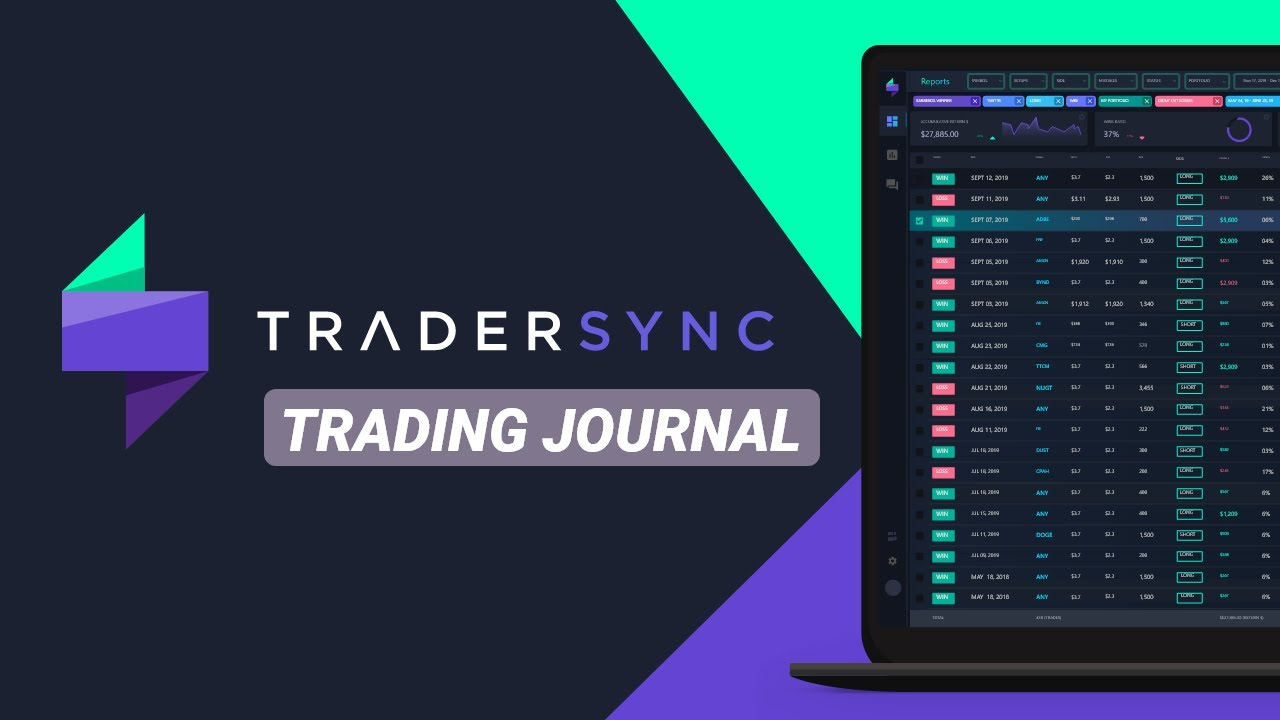 The addition of an artificial intelligence engine that automatically analyzes the previous trade history, and current trade going on to fund hidden and ignored patterns is valuable. It digs out every insight you might be missing or unaware of.
TraderSync trading journal supports multiple socializing features that permit the user to reach and interact with the broader trading community. The sharing setting command is handed to the user so he can filter what he wants to share and with whom. This trading journal offers a system of tags that assist in separating several categories for further analysis.
Moreover, a trading strategy trade simulator is an excellent addition to the standard functions. Where TraderSync shines bright in the list of best trading journals, it also offers over 240 broker importing support.
Price
TraderSync offers multiple plans. After a free trial of seven days, you can opt for a pro plan for $29.95/month, a premium plan for $49.95/month, and an elite plan for $79.95/month.
Supported asset classes
Stocks, Options, Futures, Forex
Edgewonk
Key Features
Works well with all devices

It supports cryptocurrency trading

Supports emotional analysis and chartbook

Trade management optimizer

It includes a trading journal

Features multiple trading journals

Future stimulator with growth options'
It is one of the best trading journals. If you have the valuable combination of a journal and trade analytical software, you should go for Edgewonk. The Edgewonk is continuously taking customer feedback seriously and improving this software. The latest version, Edgewonk 3.0, was first launched in March 2021. The Edgewonk 2.0 was downloadable trading journal software, but the newest version has eradicated this formality. Now all features are available online from anywhere and on any device.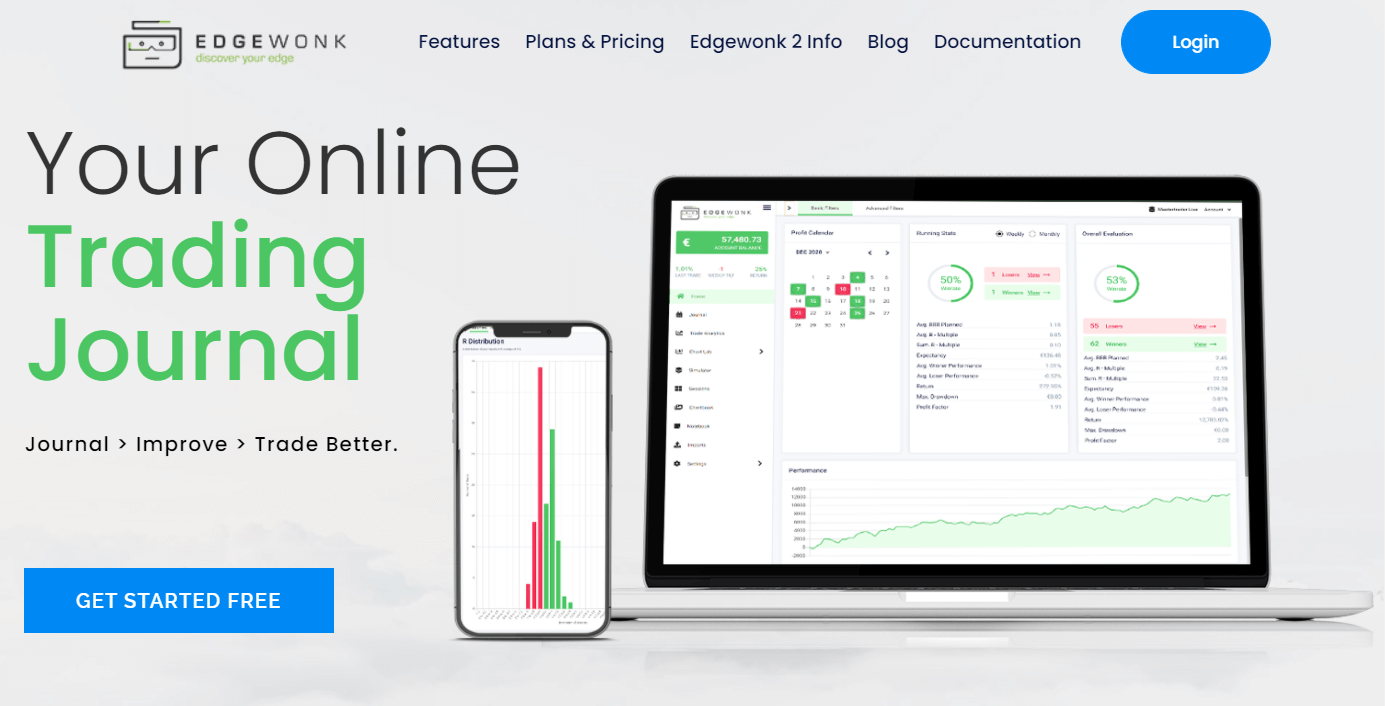 With this trading journal, you can benefit from entry or exit tools for optimization, advanced trade classifiers, a stimulator holding time analysis, trade management evolution, and more. If we say this software has everything to offer to get a complete picture of a profile, it will not be wrong.
Edgewonk facilitates the user to modify the input trading data, including every trade tag and adding notes. The best aspect that makes Edgewonk distinct is the psychological classifier. For the record, you are allowed to add the truth about your mood, health, the reason for entering or leaving the trade, and many more trivial details in a trading journal. Edgewonk will help you track the pattern related to the success of the trade or its effect on your mental health.
With these advantages, you can expect a few drawbacks. The downside of this trading journal is that it does not support as many brokers and trading platforms as other options thriving in the market for automated imports. Currently, it does not support options trade.
Supported classes
Stocks, Forex, Futures, Commodities, Cryptocurrencies, and CFDs
Price
The pro plan of Edgewonk trading journal costs $169 per year
Tradervue
Key Features
Auto-import

Risk analysis

Feature sharing with high privacy

Filtering, tagging, and trade notes

Detailed reports and statistics

Automatic price charts and chart studies

Multiple-currency trade tracking

Running P&L charts
It is another successful trading journal software with the honor to be the very first trading journal in the financial markets. Tradervue is a platform that offers you the right to journal, analyze and share the trade with no difficult process. It features a straightforward and utilitarian interface that is user-friendly and quite convenient to navigate.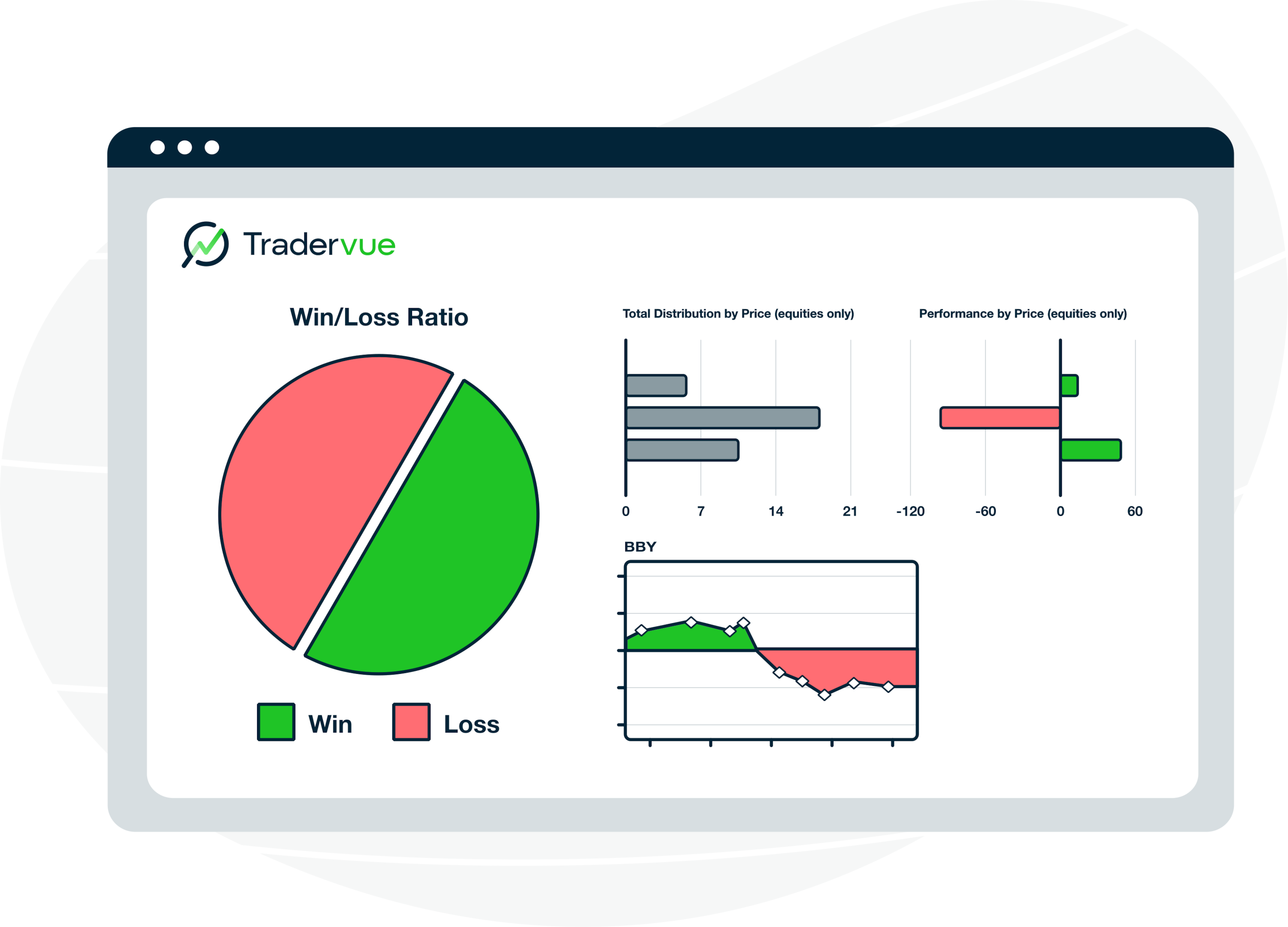 The simplicity of trading software does not come at the cost of functionality. The traditional trading journal is a powerhouse of features, offering you everything you can expect or need. This high-quality best trading journal software provides a social element to allow you to connect with friends and publish your trades. This platform helps you track and improve your performance.
You can utilize Tradevue for free, but with certain restrictions. For instance, the user will not access the advanced analytic and charting features. Tradevue is a much better and easier option than keeping the history of trade on any typical tool or excel spreadsheet.
Despite being a veteran, this platform offers one of the most advanced integration systems. This trading journal software works well with around 70 trading platforms and brokers. It opens almost every possible way to import trade from every trading solution.
Price
If you want to unlock, you need to select a suitable plan from the golden and silver category. It offers a free plan as a free trial with limitations, a silver monthly subscription for $29, and gold for $49/month.
Supported asset classes
Stocks, Options, Futures, Forex market
Microsoft Excel
Key Features
Connect BU data source
Connect with experts
Available on the play store for android, apple app store, and desktop
Do you like to trade without the interruption of a third party? Fortunately, you have found your thing. With a Microsoft Excel spreadsheet, you can take control of functionalities and features; users can also choose to create a separate spreadsheet trading journal from zero. If you do not want to start from scratch but develop yourself, Microsoft facilitates you with a strong base with a free spreadsheet sample from the web. It also permits the development of different features.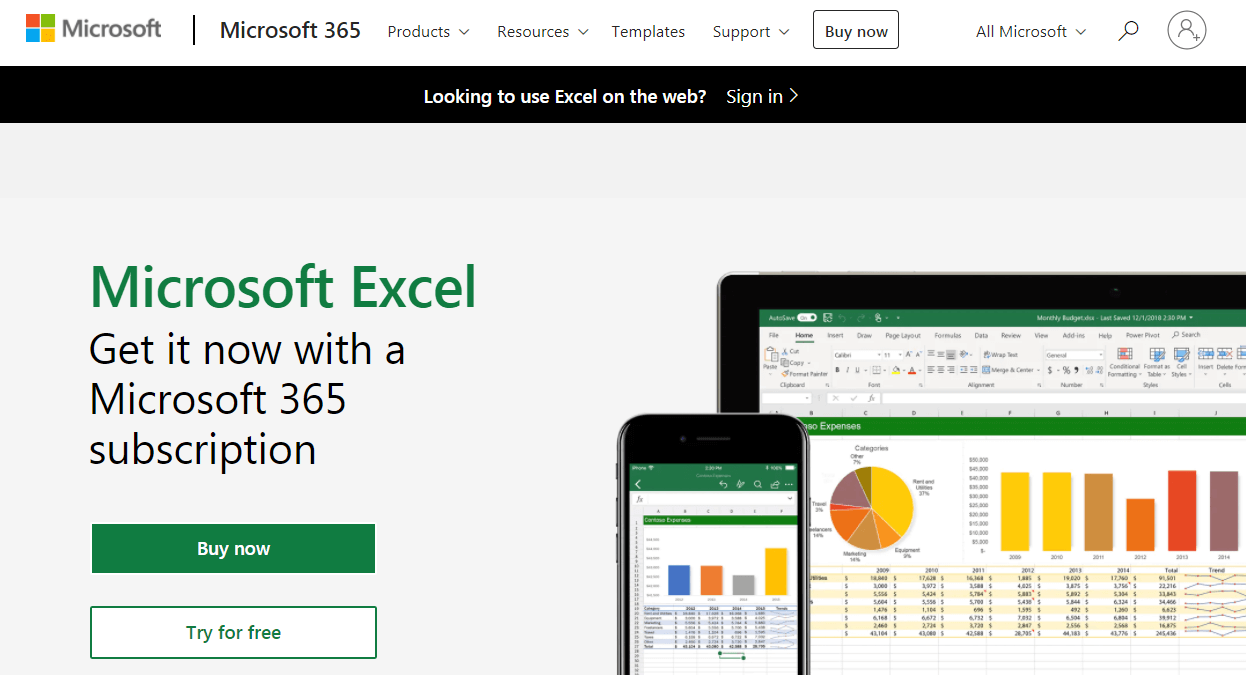 If the user selects this trading journal, you must keep two things in mind. First of all, it is pretty time-consuming. You cannot personalize or add records with a few clicks; you will have to invest maybe an hour or two. Moreover, if you lack essential information, you will have to learn the finance regarding functions in Microsoft Excel and many more.
Moreover, you will have to give more hours for cross-checking the free spreadsheet template to make sure that everything is working perfectly. It is more likely to skew your trading results with minor mistakes in every other column.
Next, you will have to develop the habit of manually inputting the record of your trade history every trading day. You will have to create a habit of consistency and error-free typing.
Price
It is free
Supported Asset classes
Unlimited trades
Trademetria
Key Features
30+ built-in trading metrics

Includes data from 20+ world exchanges

Export trade for additional analysis

Search, filter, and share your trade

Supports 150+ brokers' integration

Customizable account features

Trade simulator

Auto plots stop and price target
Trademetria is another well-known and functional online trading journal software created by Thiago Ghilardi. He was a full-time trader who came up with a practical and one-among-all tool that is used by more than ten thousand users around the world.
This is an all-around best trading journal software that also sometimes serves as a portfolio tracker and trade analyzer. Trademetria permits the user to monitor multiple metrics on multiple accounts. Moreover, it even supports a built-in trade simulator to test the strategies without risking a dime. The capability of supporting more than 140 platforms or online brokers has hyped its compatibility. This platform conveniently integrates with many online brokers to add to your ease so you can quickly and instantly import your trade.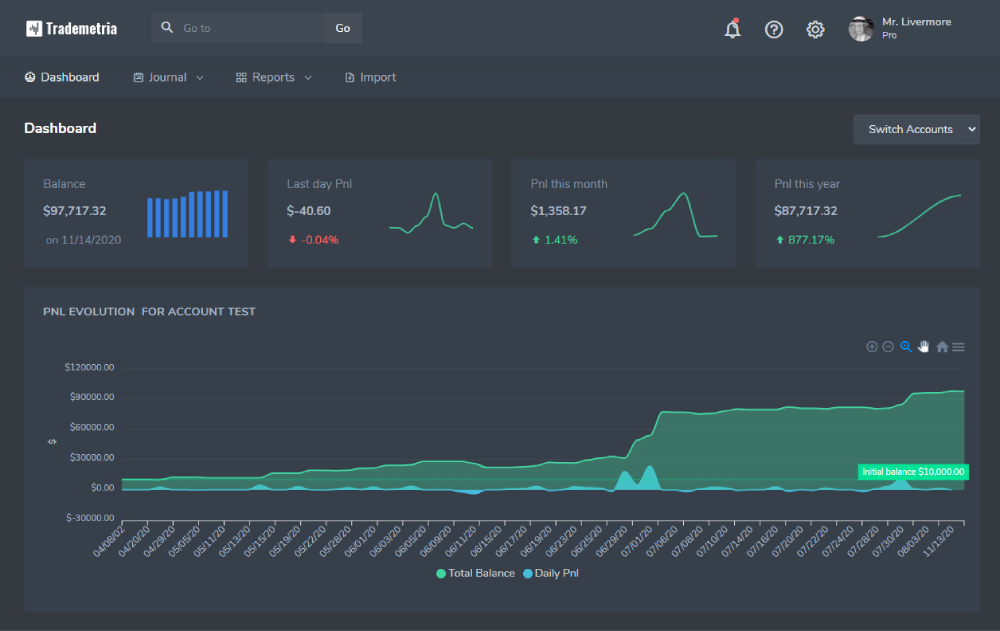 A highly compatible platform works well on almost all devices and is equipped with remarkable and functional features. Unlimited delayed quotes and equities, a trade history, key metrics, and buy and sell are displayed on the interactive charts. Trademetria also features a PnL trading simulator and day trading strategy ranking, which are excellent additions.
This is a good trading journal that never sets back when it comes to backtesting. It offers the user access to important information such as the most influential trade instrument, profitable market conditions, the best time to trade, and complete knowledge about the most successful strategies.
Price
Offer a free trial that allows the user to test trading journals before investing. For full access, you can get a basic plan for $19 monthly, and a pro plan costs only $29 monthly.
Supported asset cases
Cryptocurrency trades, stocks, options, futures, forexand CFDs
TradesViz
Key Features
Advanced analysis

Flexible intraday charting

Easy trade management

Customizable tables

Intuitive analysis
Tradeviz is one of the best trading journals with advanced online trading tools. These are the best tools with a wide range of advanced performance analysis and stick charting features. On if the best functions are visualization and conducting post-trade analysis.
This trading journal features more than 70 base charts which are facilitated to customize and control the granularity of your trading data.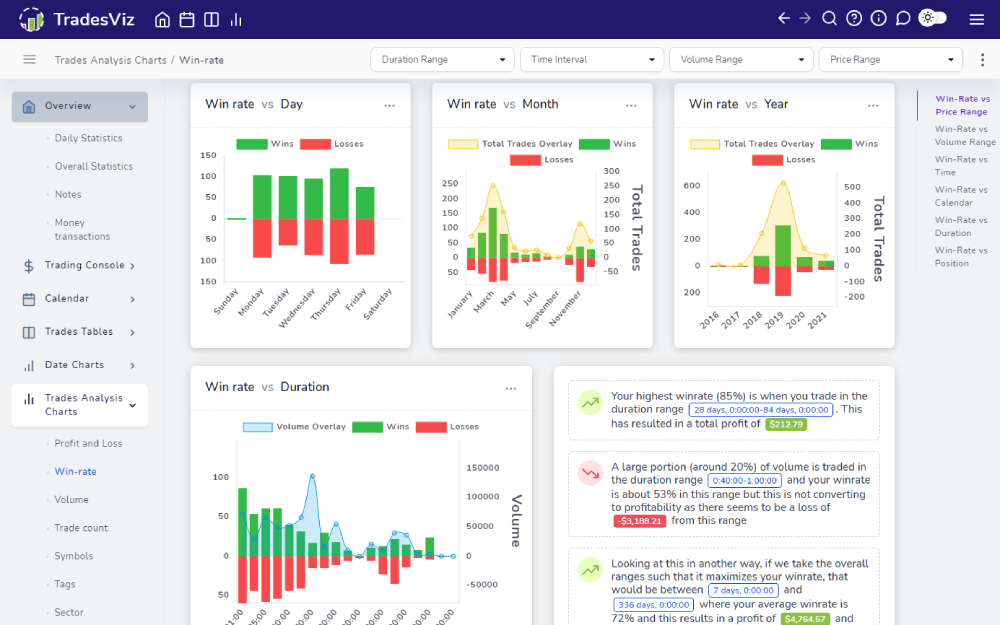 The All-in-one trading platform has flexible stock charting with all asset support. The addition of a built-in option flow post-trade analysis and screener adds to the ease of use for accurate analysis. This platform also offers statistics and tables and allows you to create a dashboard that perfectly fits your trading edge choice, including all important information. It provides actual automated trade. Link your account with read-only connections and opens the way for the trade to come to your trade journal automatically. When you have Tradeviz, you do not need to worry about depth DIY analysis. These platforms provide auto insights with all our PnL statistics.
TradeViz is one of the most affordable trading journals, offering you a free trial but with limited features. You can use it for seven days for free, test and then pay for it.
Price
7 days free trial, Pro plan costs $19.99 per month, and platinum plan costs $29.99 per month
Supported asset classes
Stock options, crypto, forex, stocks, futures, and futures options
PsyQuation
Key Features
Al-driven insights in trading

Capital allocation program

Comparison with other day traders' built-in customizable alerts

Near real-time equity curve

Sophisticated trading tool
It is another worth considering trading journal that utilizes Al-driven insights to aid the user in improving trading performance and making better trading decisions. This is a helpful platform that tracks your trading skills and draws comparisons with other active traders in the forex community.
This platform permits you to choose the most crucial to display. It includes S/L, T/P, commission, duration, swap, order, and tax. However, PsyQuation aims to figure out and come up with trading talent.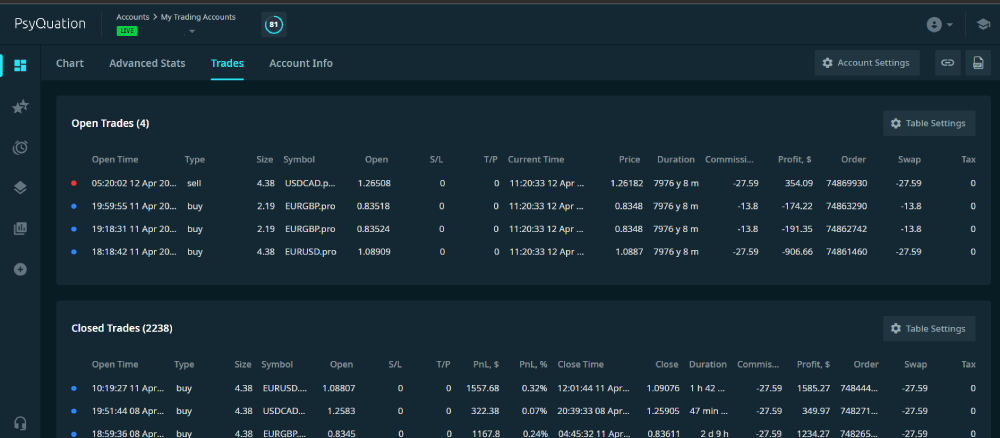 So they can connect investors with successful traders with exceptional talent. The trade journal allows featured customizable warnings to prevent trading mistakes and receive insights based on factual data. With this smooth trading tool, you can have access to information that is generally specified for hedge funds and professional traders.
The online trading journal has a capital allocation program. Fortunately, through this platform, you can get a verified record as a professional gain with other traders. It also has access to additional revenue. It is the best opportunity to join and use this platform to ensure better trading decisions.
Price
Offer a free trial with limited features. To get access to all features, you must get a premium account for Axi live trading accounts.
Supported Assets
It supports all MT4 assets
How to create a trading journal
There are many pre-existing best trading journals available, but if it does not match your style, or you want to make some customization to a tailored journal according to your trading system preferences, here are some useful tips to get started.
Decide whether you want to use a spreadsheet or a physical notebook as a trading journal. The spreadsheet should get high preference as it can do calculations for you. Afterward, decide the kind of information or knowledge you want to jot down about your journal trades. The crucial information is the trade date, asset type, and position size. After that, you are all set to start writing your trade. Adopting a good practice is to write down your logging trades directly as they take place. Like many aspects of life, consistency is the primary key to staying on track when it comes to trade journals.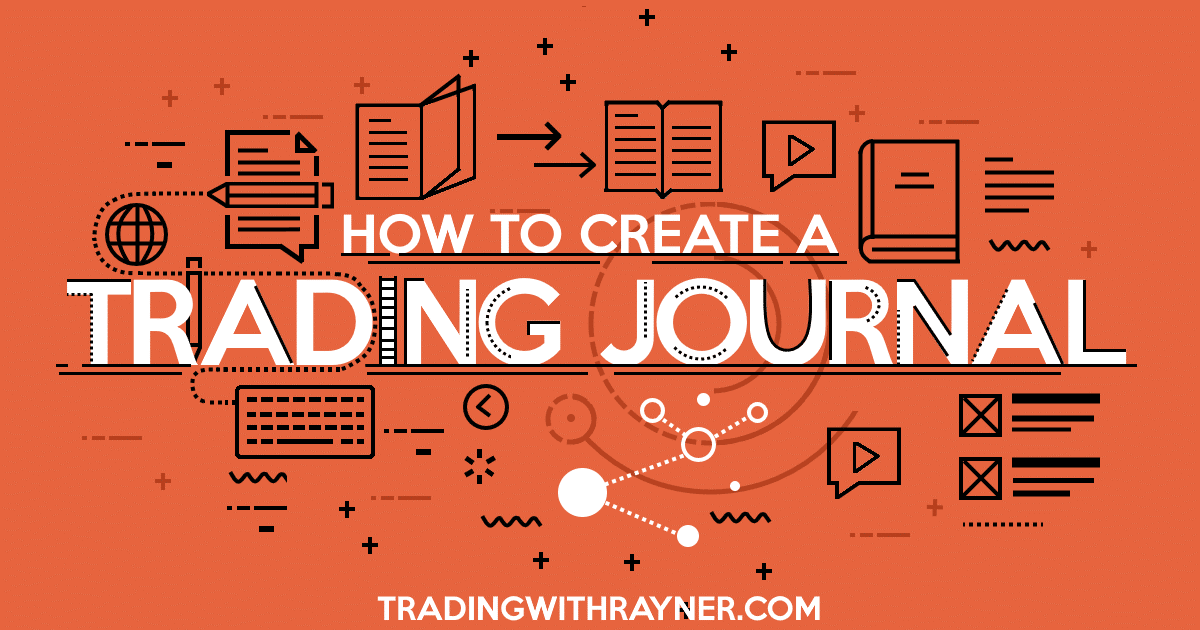 Keep in mind that if you are a Forex trader, make sure to focus your trade journal on different strategies you want to implement and trading plans. The more you jot down, the more stats and information you will have for analysis. This offers you greater knowledge while creating and enacting a trading system.
Conclusion
As a trader, it is customary and mandatory to accept the risk that comes with a volatile trade market. Luckily, there are some trading tools to assist most traders in navigating the uncertainty that can come across throughout the trading day.
This tool is a trading journal. Selecting the best trading journal is not difficult as long as you know your preference. Therefore, we have narrowed down the best trade journals you can use for a free plan of these registries to ensure if they are your thing or not. Then pay a bit to get the entire package and unlimited features of the trading journal.